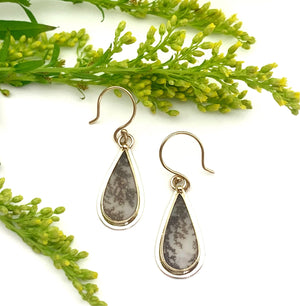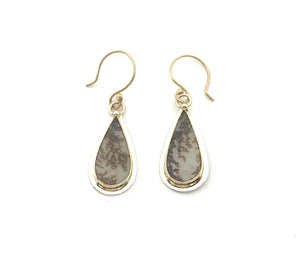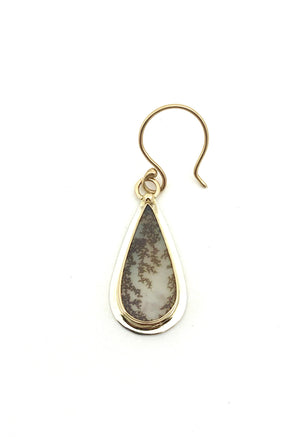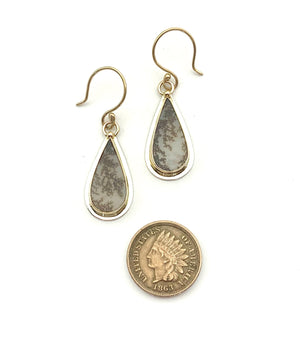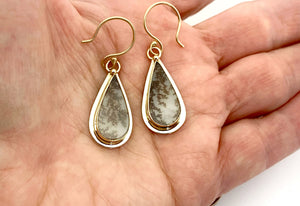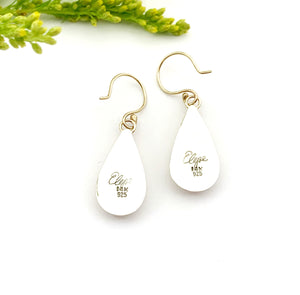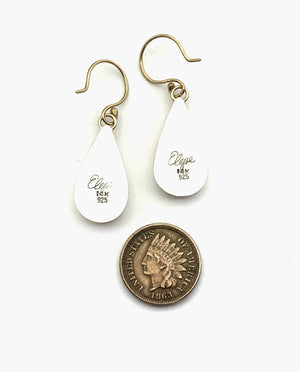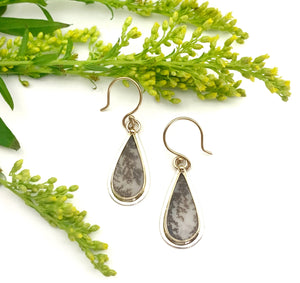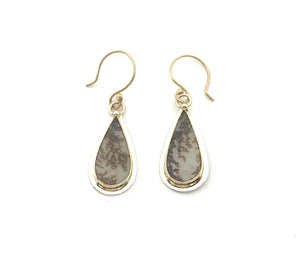 Dendritic Agate Earrings in Silver and Gold, Nature Jewelry Dangle Earrings, Garden Lover Earrings
One of a kind, Dendritic Agates set in 14k gold bezels on a sterling silver back plate with 14k gold ear wires. These beautiful stones measure 3/4" long by 3/8" wide. With their sterling border and including the 14k gold ring, the earring is a tiny bit over 1" long. They are lightweight and neutral so will go with any outfit you have in mind. The 14k gold ear wires are hypoallergenic.
Agates are a variety of Chalcedony which is a part of the Quartz family. These beautiful and picturesque inclusions are the result of iron oxide or manganese oxide. Manganese oxides result in the orange to red color and manganese oxide creates black designs. These feathery inclusions are called dendrites.
Agates are the mystical birthstone for September and are also the birthstone for the Zodiac sign of Gemini. The energies of the stone are said to be good for the skin and eyes. Dendritic Agate is known as the Stone of Plentitude. It is said to bring abundance. It was associated with the ancient Greek dryads, which were woodland and tree spirits.
These earrings will arrive in a beautiful gift box with a free polishing cloth. Free gift wrapping is available, just convo me if you would like them wrapped. Like all my jewelry, they come with a lifetime warranty. If they should ever need a repair, just send them to me and I will fix them and return them to you at no charge.
Free domestic shipping!