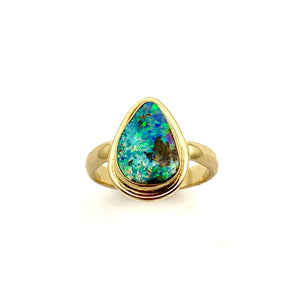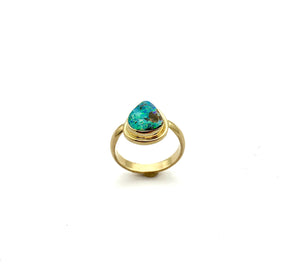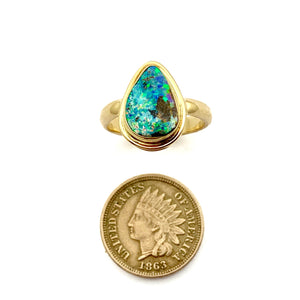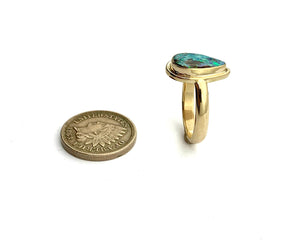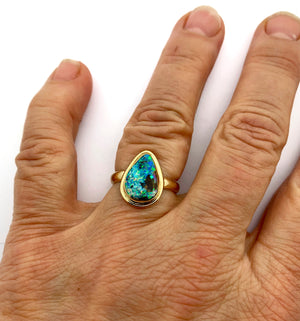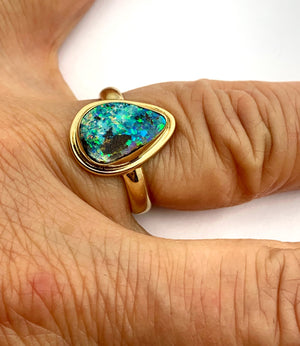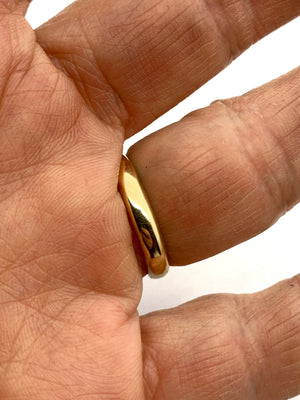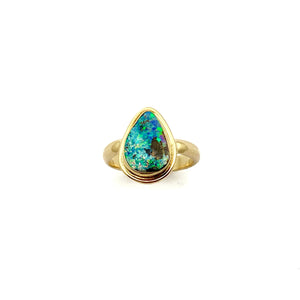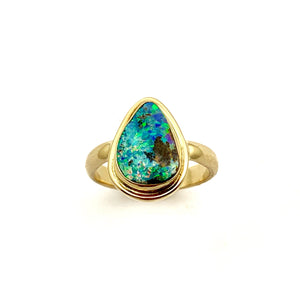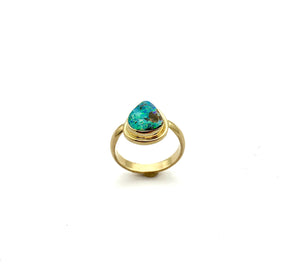 Australian Opal Set in 14k Yellow Gold Ring
Dazzling bright blue solid Australian opal set in a classic setting made of 14k gold. This flashy and bright opal reminds me of an aerial view of a Caribbean island with the swirling ocean all around. It measures 12mm by 8mm and is an incredibly bright opal with strong flashes of red, green and blue. This is a solid opal, not a doublet or triplet. The band is 3mm wide which is a nice substantial band, not too thin (which can result in ring spinning around on your finger) or too thick (which can be uncomfortable). This ring is a size 6 which can be stretched to a size 6.75. If you need a different size, just convo me!
Opal is Australia's national gemstone. Opals begin as a mixture of silicon dioxide and water. When fresh water (from rain or streams) runs down over sandstone, it picks up silica from the sandstone. This silica and water solution finds its way into cracks and crevices, usually in ironstone or sandstone boulders. When the water eventually evaporates, only the silica is left which has opalized into beautiful colors and patterns. This process literally takes millions of years! Opal rates at about 5.5-6.5 on the mohs scale which is a similar hardness to glass. It is, therefore very important that you treat your opal very carefully and avoid subjecting it to force or to any other activities that could potentially damage or break it. Opals should be kept from soaps, detergents and perfumes of any kind, just to be on the safe side!
Shipping – Please read carefully: Like all my jewelry, this ring comes with a lifetime warranty. If it ever needs a repair, just send it to me and I will fix it and return it to you at no charge. Gift wrapping is available, free of charge, just convo me if you would like it wrapped.
Free domestic shipping