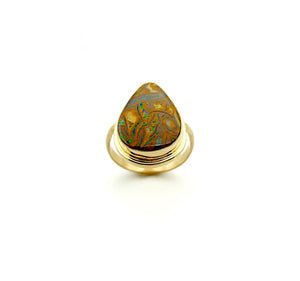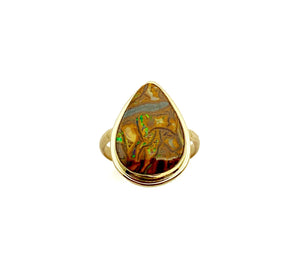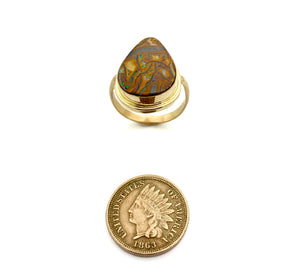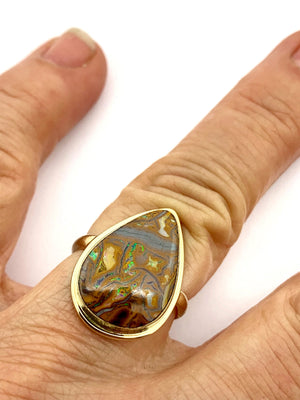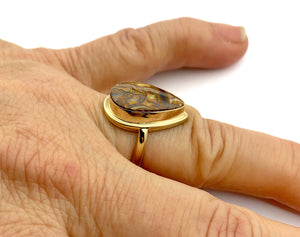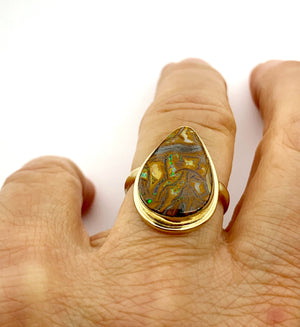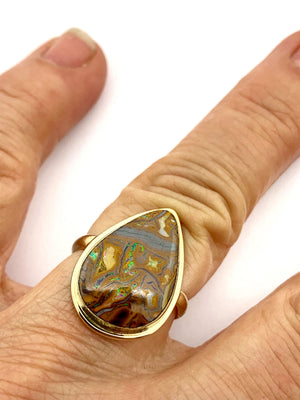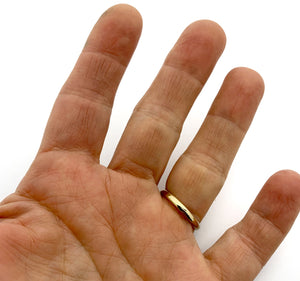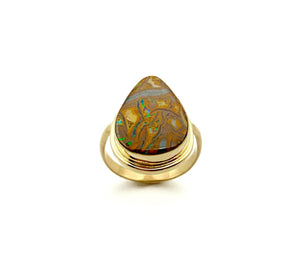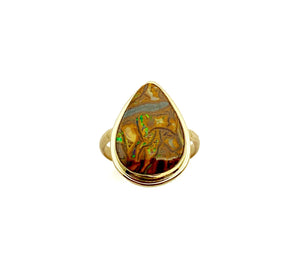 Australian Opal Statement Ring
Flashy Koroit opal from Australia set in a 14k gold statement ring. Natural and unbacked, this flashy opal shows blue, pink, green and purple flashes as it hits the light. Unique and one of a kind, it was hand fabricated for a quality ring that will become an heirloom. The opal measures 18mm by 13mm or approximately 3/4" by 1/2. This is a solid opal, not a doublet or triplet. The ring shank is solid half round 14k gold wire and will be very comfortable on your finger. It is a size 7 and can be stretched to a size 7.5. If this is not your size, I have a large collection of Koroit opals you can select one for a custom made ring that will fit you perfectly.
Koroit Opals come from South West Queensland, Australia in a remote area that has neither electricity or running water. It is not to be confused with the town of Koroit which is in western Victoria. Koroit Opals are famous for their strong ironstone color with beautiful inclusions of bright colors. Each pattern in the opal is entirely unique and reflects the cutters skill in enticing the best flashy color to emerge from the background.
This ring will arrive in a beautiful gift box with a polishing cloth. Gift wrapping is available at no additional charge, just let me know if you would like it wrapped. Like all my jewelry, it comes with a lifetime warranty. If it ever needs a repair, just send it to me and I will fix it and return it to you at no charge.
Free domestic shipping!