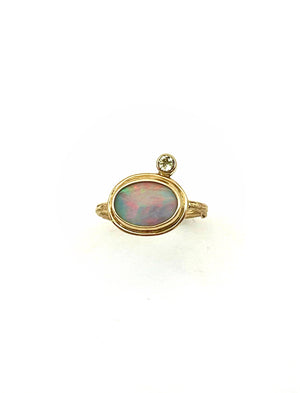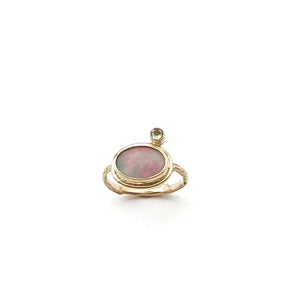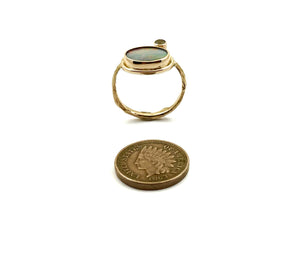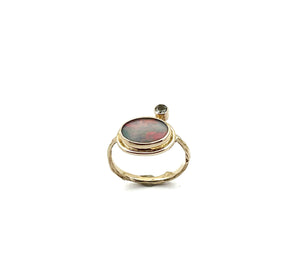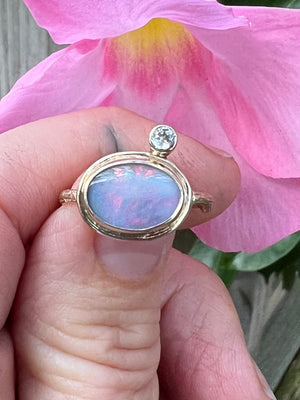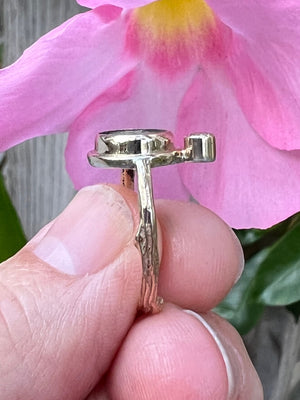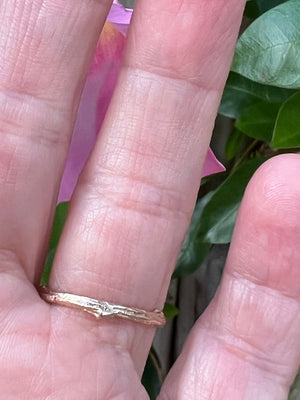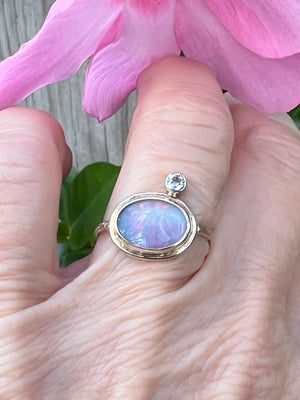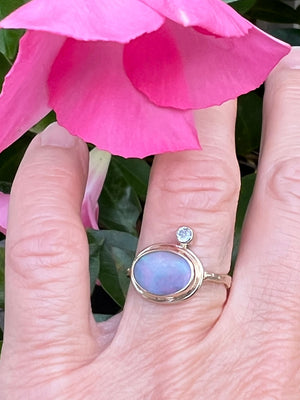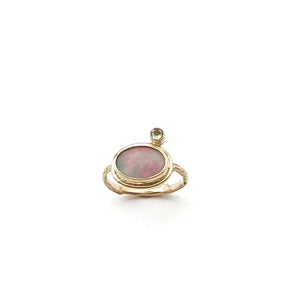 Australian Opal and Diamond in 14k Gold and Silver, October Birthstone, Solid Opal Statement Ring
One of a kind, very flashy solid Australian Opal set in 14k gold with a 3mm brilliant cut white diamond accent. This beautiful opal measures 11mm by 8mm and is set in a 3mm wide 14k bezel with 14k wire trim. This is a solid opal, not a doublet which is made from 2 parts and bonded together-this opal is approximately 2 mm thick and is one solid piece. The backplate behind the opal is sterling silver. The 14k band was cast from an actual live twig so is full of subtle natural detail. This ring is a size 6 and due to the delicate details on the band, can't be stretched. If this is not your size, I have a large collection of opals for you to choose from to create a custom sized ring that will fit you perfectly.
Opals begin as a mixture of silicon dioxide and water. When fresh water (from rain or streams) runs down over sandstone, it picks up traces of silica from the sandstone. This silica and water solution finds its way into cracks and crevices in trees or boulders. When the water evaporates, the silica is left (with minute amounts of water trapped in the molecules), and an opal is created! The process, although seemingly simple, takes millions of years. Opals are all one of a kind and each captures its own unique beauty. Opals are about 5-6 on the Moh's scale of hardness which is about the same hardness as glass. Care should be taken so they are not scratched. To protect their beauty, they should not be stored in direct sunlight. They deserve to be treated gently so I also recommend removing them when playing sports or doing any activities that involve your hands. They should also be removed when showering because they can be affected by perfumes, cleansers, lotions or other chemicals. With a little TLC, they will become a family heirloom!
This ring will arrive in a beautiful gift box with a free polishing cloth. Like all my jewelry, it comes with a lifetime warranty. If it ever needs a repair, just send it to me and I will fix it and return it to you at no cost. Gift wrapping is available free of charge, just convo me if you would like it wrapped.
Free domestic shipping!