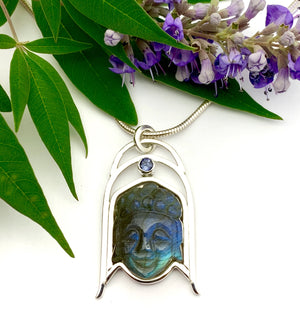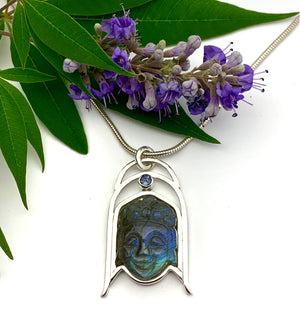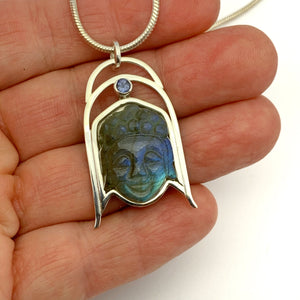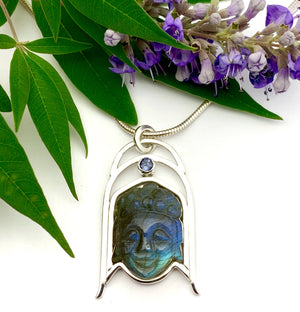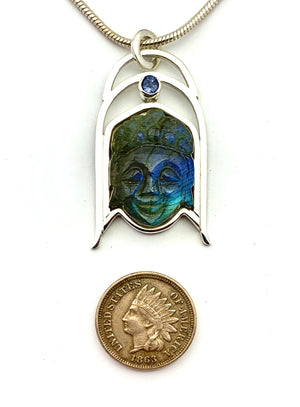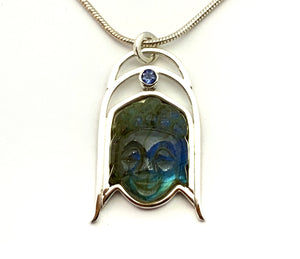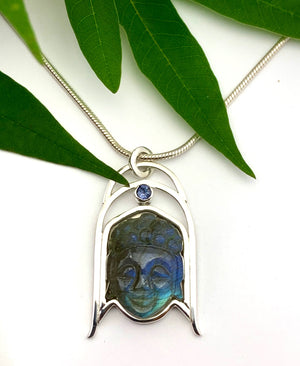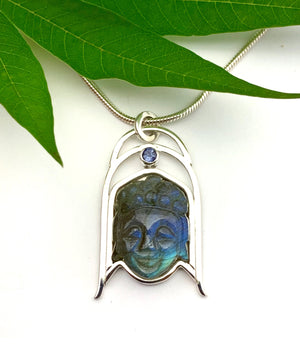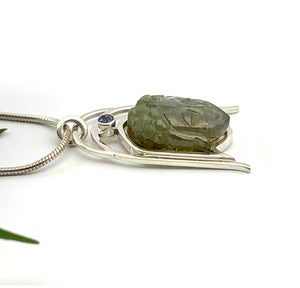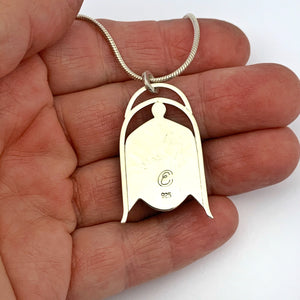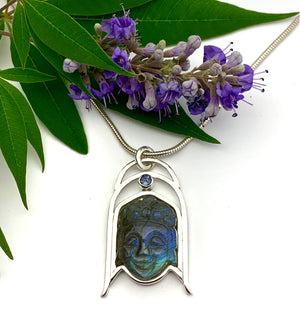 Labradorite Buddha Pendant, Carved Stone Necklace, Labradorite and Tanzanite Pendant, OOAK Natural Stone Pendant in Sterling Silver
Beautifully hand carved, flashy Labradorite Buddha accented with 3mm round faceted Tanzanite in a sterling silver frame. This unique piece features a wonderful example of Labradorite which has mystical flashes of light blue and green depending on how the light hits it. I have made a simple sterling silver setting for it and then accented the top of the piece with a round tanzanite. The round snake chain is 18" long and has a lobster claw clasp for safety.
Labradorite is a very interesting stone. It was originally discovered in Labrador, Canada, in the Maritime Provinces, but has since also been found in Norway and other locations around the world. Labradorite displays an iridescent effect which is the refraction of light through its submicroscopic layers. Its remarkable play of color is known as "Labradorescence".It has been said that Inuit people believed that Labradorite fell from the frozen fire of the Aurora Borealis. When you are looking at it, you can see why they thought that with its beautiful flashes of blue and green.
Tanzanite is a newcomer to the world of gemstones, having only been discovered about 60 years ago, but it was a very exciting gem discovery. Blue stones emerging from Tanzania were identified as the mineral zoisite in 1962. In 1967, prospectors located the primary source for this December birthstone: the Merelani Hills. It was named tanzanite in honor of its country of origin. Tanzanite is valued mostly because of its beautiful color, which ranges from a pure rich blue to violet, with the blue considered most valuable.
This pendant will arrive in a beautiful gift box with a free polishing cloth. Like all my jewelry, it has a lifetime warranty. If it ever needs a repair, just send it to me and I will fix it and return it to you at no charge.
Free domestic shipping!