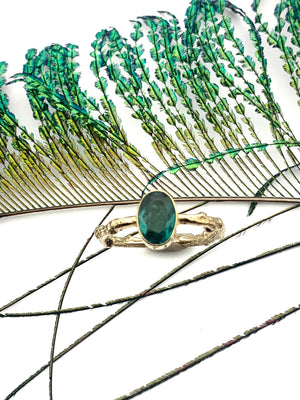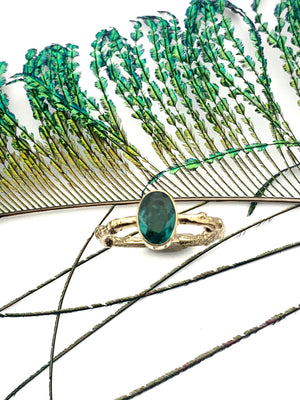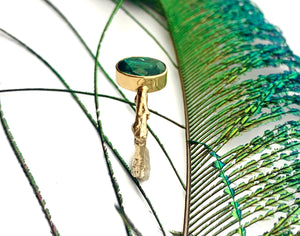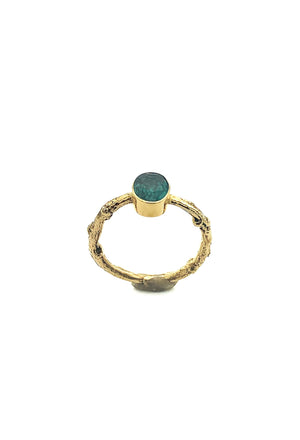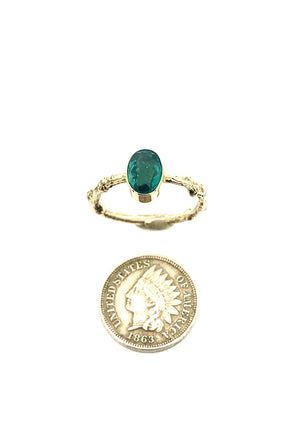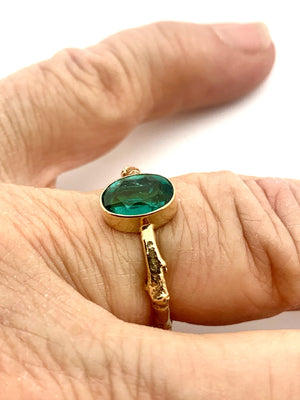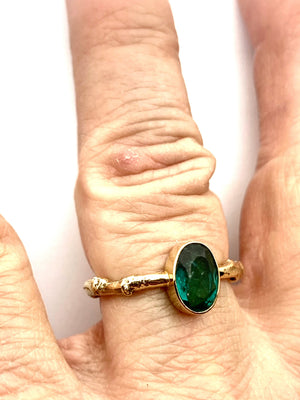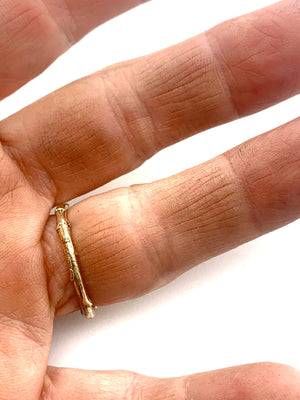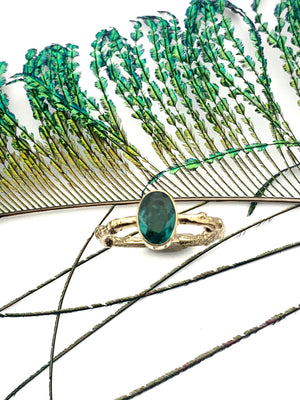 Green Tourmaline Ring 14k Gold, Statement Ring, Friendship Ring, Alternate Engagement Ring, OOAK gold gemstone ring, October Birthstone Ring
Beautiful and elegant 14k gold ring with faceted green tourmaline and 14k gold cast twig band. This ring is perfect for nature lovers! The delicate textured band was cast from an actual live twig so it has all the texture and details of a real twig. The blue-green tourmaline measures 8mm by 6mm and is set in a 3mm wide 14k bezel. This ring is a size 6.5 and due to the texture of the band, can't be stretched. If this is not your size, I have a large collection of tourmalines for you to choose from so I can make a ring that fits you exactly. This ring is perfect as a friendship ring, commitment ring or just a really nice gift for yourself!
Tourmaline is the most colorful of all the gemstones and comes in almost every color. Pink, red, blue, green and multicolored are the most common. It is a fairly hard stone measuring about 7-7.5 on the Moh's scale of hardness. Scientifically, tourmaline is actually the name for a group of minerals that display the same chemical and physical properties. The name comes from the Sinhalese word, tura mali, which translates as stone of many colors. Tourmaline is considered by some to be a balancing stone that removes insecurities. Tourmaline is one of two birthstones for October.
This ring will arrive in a beautiful gift box with a free polishing cloth. Free gift wrapping is available, just convo me if you'd like it wrapped. Like all my jewelry, it comes with a lifetime warranty. If it ever needs a repair, just return it to me and I will fix it and send it back to you at no charge.
Makes a fabulous gift for an October birthday! Free domestic shipping!