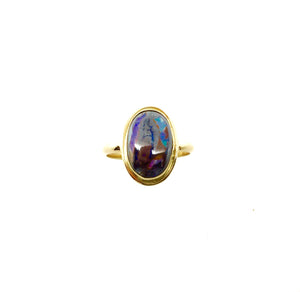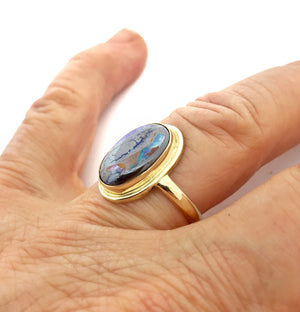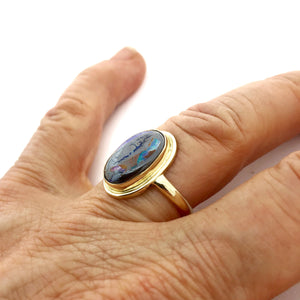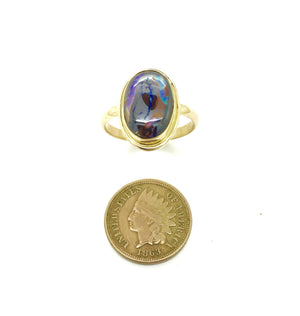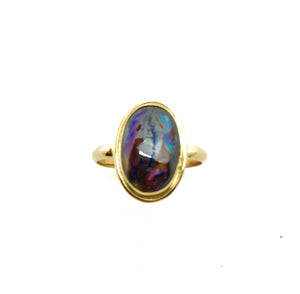 Koroit Opal 14k Ring
Beautiful and flashy (but hard to photograph) Koroit Opal from Australia set in 14k. This one of a kind opal has a fabulous pattern of blue and purple swirled into the brown matrix. I've set it in a classic simple setting, one that will never go out of style. This opal measures 14mm by 10mm (about 5/8" long by 3/8" wide). With the 14k setting, the top of the ring is 18mm by 12mm and the ring shank is 3mm wide. This ring has a solid (gold) back.
Koroit Opals are from Queensland, Australia. They are famous for their deep color, unique patterns and inclusions of stunning opalescence. Koroit opals are the second most valuable type of opal (following black opal). Koroit opals are easily distinguished by their layer of solid brown ironstone left on the back of the stone. Boulder opals are mined from large ironstone boulders found underground. Thin veins of colorful opal forms in cracks (in sandstone) from water carrying silica. When the water evaporates, sometimes an opal is formed.
This ring will arrive in a beautiful gift box with a free polishing cloth. Like all my jewelry, it comes with a lifetime warranty. If it ever needs a repair, just send it to me and I will fix it and return it to you at no charge.
This ring is a size 6.5 but can be stretched up to a 7. If you need a different size, I have a large collection of opals for you to choose from.
Free domestic shipping!