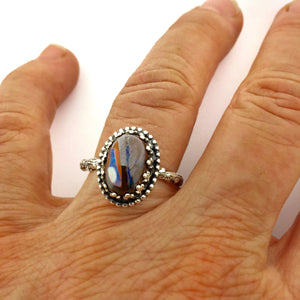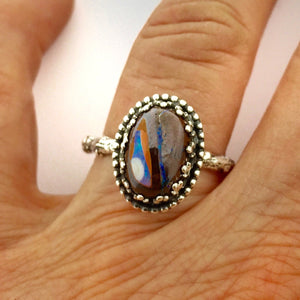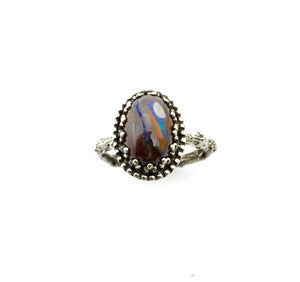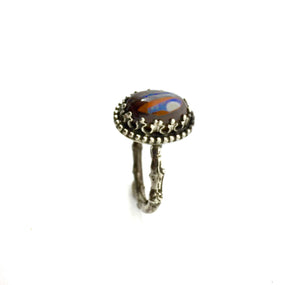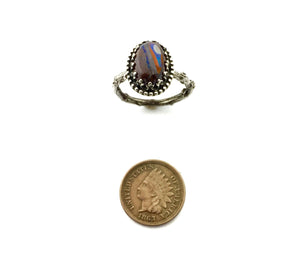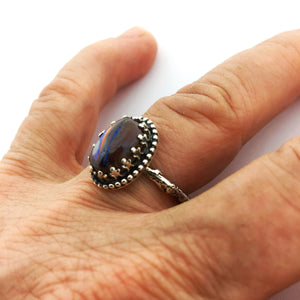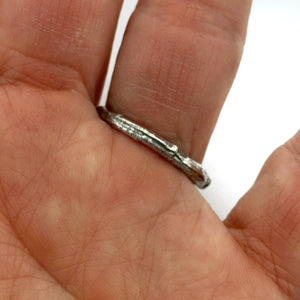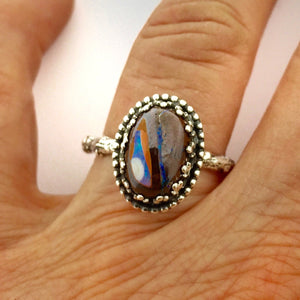 Koroit Opal Ring
One of a kind Australian Koroit Opal set in sterling silver with sterling silver twig band. This stunning ring is made with a Koroit Opal which is from Queensland, Australia. Koroit Opals are famous for their deep color, unique patterns and inclusions of stunning opalescence. This opal measures 16mm by 12mm (or approximately 1/2" by 3/8"). The total measurement of the top of the ring is 16mm by 12mm ( about 5/8" long by 1/2" wide). I have used an ornate fine silver bezel which I've surrounded with a beaded wire border. The band is cast in sterling silver from an actual twig.
Opal rates at approximately 5.5-6.5 on the mohs scale which is a similar hardness to glass. It is, therefore very important that you treat your opal very carefully and avoid subjecting it to force or to any other activities that could potentially damage or break it.
Please also avoid soaps, detergent or perfumes and don't store it in direct sunlight. These simple steps will help your opals to last a long time!
This ring will arrive in a beautiful gift box with a free polishing cloth. Like all my jewelry, it comes with a lifetime warranty. If it should ever need a repair, just send it to me and I will fix it and return it to you at no charge.
Free domestic shipping!